The Third Rule
I've recently signed up to a new mobile contract with Three because they offer unlimited data (with tethering allowed) for just £15 per month. Sure, the customer service may not be as good as the fantastic service I've had from Vodafone over the years, but it is less than half the price.
I signed up for a My3 account last night. Apparently they only have two rules for your password. Except I found the secret third rule: password length.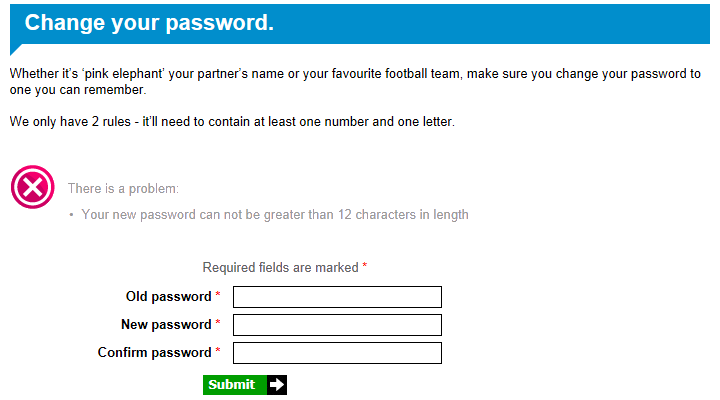 Yes, that's right, they have a
maximum
length of only 12 characters. I could understand a secret rule for a minimum length (because some people are probably stupid enough to enter 1D, for example). But why have such a low maximum length?
I can only think of a handful of reasons why. Hopefully it's not for one of the more scary reasons.
I should point out that over the last two years the customer service has been fantastic, over Twitter and in their retail stores. I swapped my micro-SIM for a nano-SIM for my Nexus 5X today and I was served quickly, I got a free SIM adaptor so I could use my old phone until I'd unboxed the new one at home, and the new SIM worked as soon as I'd finished rebooting my phone. Coverage isn't quite as good as Vodafone in rural areas, but everything else has been great. Much cheaper too.