IE9 Platform Preview
I'm fairly impressed with the IE9 preview. I'm most impressed that it's a standalone application so it won't affect your system; previously you had to install the IE8 (and IE7 etcc) betas over the top of your current version of IE, which usually meant your OS would crash (and IIRC occasionally bluescreen!). It didn't take me too long to break the preview though: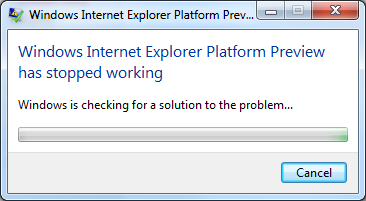 Most websites I've tried in IE9 Standards Mode seem to work pretty well, including my own (although I knew it would be fine).