What Would You Do With An Extra £100?
I got a leaflet with my payslip a few weeks ago, which is still sat on my desk for some reason: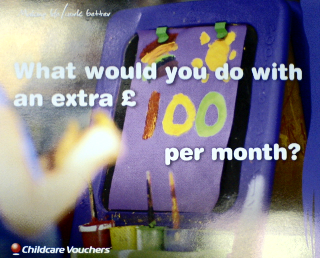 And it got me thinking, what would I do with an extra £100 a week? Hookers? Drugs? Drink? Gamble? Treat myself to a nice hotel? Buy a new terabyte hard disk? A cheap bottle of champagne each week? Sadly, once you read the "small print" on the right hand side, it looks like I need to have a child in order to make those savings.
I tried searching for an image of the voucher, to save me from copying the cameraphone image (especially as there's a lot of glare). For some reason Google has trouble with the GBP symbol, suggesting dollars and in one rather bizarre case (the third result)
what to do when you're given 100 dildos
(presumably NSFW, although I'm at work so I haven't tried it).
http://www.google.co.uk/search?q=what+would+you+do+with+an+extra+%C2%A3100
Oooh that reminds me, once I have got rid of the bloody student loan, I will have an extra £100 a week. In all honesty it wouldn't make any difference to my monthly expenditure as it will just go into the mortgage or savings.